When folks think of traditional music, perhaps the first name that comes to mind is Irish folksinger, musician, and entertainer, Gerry Timlin. And it's no wonder…
A great favorite in the USA and Canada, the Pennsylvania based singer has enjoyed success all over the world. Gerry was born in Ireland where he developed an early interest in traditional Irish music and, from a young age, he displayed a natural musical talent. Over the years, Gerry's love of music expanded to include Scottish, American, Canadian, and Australian folk music as well. He moved to the USA in the early seventies, where he has been delighting audiences with his rich baritone vocals, instrumental talent, and his irreverent humor ever since. He has been playing his special brand of folk music before adoring audiences for more than four decades in Ireland and the British Isles, the United States and Canada. Gerry started singing and playing guitar back in 1965 in his home town of Coalisland, Co

Tyrone, Ireland. He learned his first songs at home, where songs indigenous to that part of Ireland were sung by his mother who restricted her appearances to the kitchen! He was soon influenced by renowned area traditional Sean Nos (unaccompanied) singers, such as Geordie Hanna, Sarah Ann O'Neill and Paddy Tunney. He then began to study every aspect of traditional Celtic music, from intricate vocal styles to accompaniment on guitar, penny whistle, and bodhran,. from which he developed his unique approach to his presentation of his music to his audience. For over 40 years, Gerry has appeared at many festivals and has headed the bill at many concerts, clubs,, and dinner shows, as a soloist, as a member of The Jolly Tinkermen (from Northern Ireland) and as a part of a successful duo, Timlin & Kane with Tom Kane of Philadelphia since 1973.
Gerry's natural talent was recognized by his brother Shane who gave him his first guitar and entered him into his first talent contest in Ballycastle, Co Antrim. After winning this first competition, Gerry went on to compete successfully in several of these contests while still in his teens. By the tender age of 16, Gerry had already won the first of many international song contests and he soon found himself touring on both sides of the Atlantic with The Jolly Tinkermen, an impressive four-member folk group that shared the stage with The Clancy Brothers & Tommy Makem, The Dubliners, Paddy Reilly, The McPeak Family, Davey Hammond, Tony McCauley and the Sands Family.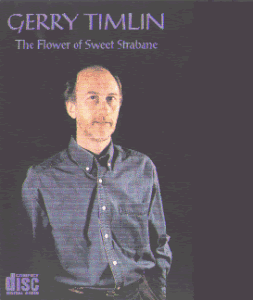 It was during an American tour in 1972 that Gerry decided to stay in the USA to pursue a career as a folk singer. Now, a soloist, Gerry is as well known for his mastery of Canadian, American and Australian folk music as he is for the music of his birthplace of Ireland. The fourteen albums to his credit as a soloist and as a member of The JollyTinkermen  demonstrate his dedication to his music. His solo releases, The Land I Love So Well, The Flower of Sweet Strabane, Gerry Timlin, Live at Godfrey Daniels, Far From The Lough Shore and most recently, Between the Earth and the Sky showcase his marvelous vocal ability, his mastery of instrumental accompaniment, and reflect his love for his craft.
Since 1972, Gerry has played at nearly every major musical festival in the region, including the annual Musicfest and Celtic Classic, both in Bethlehem, Pa., the Buffalo (NY) Irish Fest, The Philadelphia Midwinter Festival, the Fredricksburg VA Festival, the Bonnie Brae Festival (NJ) among others. He's shared the stage with The Clancy Brothers, Tommy Makem, Paddy Reilly, Brendan Grace, Ronnie Brown (The Corries), Alistair McDonald, Alisdair Fraser, Mick Moloney, John Cunningham, Eugene O'Donnell, Skip Healy, Siobhan Egan, Kips Bay Ceili Band, DeDanaan, The Battlefield Band, The Alexander Brothers, The Dubliners, Johnny McAvoy, Robbie O'Connell, James Keane (Dublin), and Tommy Sands. He performed for the Gov. Robert Casey Inauguration upon special request, as well as fundraisers for two Primate Cardinals from Ireland. He has also made numerous television appearances, and has taken part in many radio interviews and music programs, including co-hosting The Unicorn Show, WXPN Philadelphia with Michael Dinsmore at the University of Pennsylvania, and The Bleeker Street Radio Show with Chris Poe. Gerry also was Visiting Artist for classes in Folklore with Mick Moloney at the University of Pennsylvania, and for classes in Anglo-Irish Literature with Dr. Lester Connor at Chestnut Hill College in Philadelphia.
Gerry continues to grow as a performer, his beautiful baritone sounding richer and better every year. He continues to perform at selected festivals and other venues. New songs find their way into his repertoire and old favorites resurface. If you've never heard him before or if you've heard him a thousand times, he loves to engage his audience and never fails to entertain.
Gerry Timlin welcomes all inquiries, and can be reached at:
Coalisland Music and Gerry Timlin Tours
215-527-8219
PGTimlin@aol.com